Every season, we like to pick up some new key items that we know we will definitely reach for again and again throughout the year. We like to invest in pieces that are versatile and comfortable but not necessarily trend-led items. Luckily for you, we have compiled a list of eight wardrobe staples that will get keep you looking sleek and stylish in 2019. Bonus, they are all under €60.
1. Statement boots
Animal print high heel ankle boots (Stradivarius, €39.99)
For the days when you don't know what to wear, throw on some black skinny jeans and a plain white t-shirt and let these statement animal print boots do the talking!
2. Neutral light coat
The weather isn't freezing but you still need to wear a jacket and this H&M jacket will go with everything!
3. Bright and bold blouse
Savida oriental print blouse (Dunnes Stores, €30)
This oriental print blouse is perfect for any events you have coming up. Tucked into a skirt or paired with leather look jeans, it is a statement piece to have in your wardrobe all year round. Bonus, it is long sleeved and has a high neck which means you don't have to worry about putting false tan on.
4. Satin midi skirt
Satin bias midi skirt (Topshop, €40)
Satin skirts were a big hit last year and it looks like they aren't going anywhere in 2019 either. Midi skirts are a very versatile piece because you can wear they to work with tights and a cosy knit or they can be dressed up with high heels and a cami top for an evening occasion.
5. Graphic print t-shirt
Heart face printed t-shirt (iClothing, €14.99)
The classic plain white t-shirt is a staple in our wardrobes. But if you want something a little more edgier, then this iClothing graphic print top is ideal.
6. Coated leather look jeans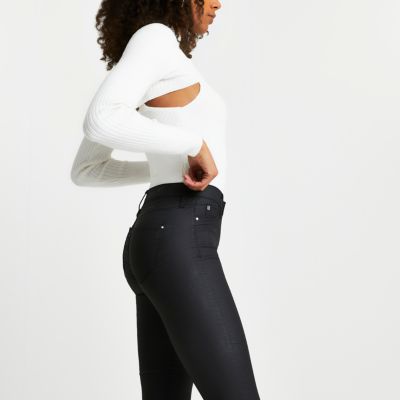 Black coated molly jeggings (River Island, €55)
These River Island coated jeans are one of the best things you can buy this year. They can be worn dressed up with a blouse and more casual with runners and a leather jacket. These are definitely worth the price!
7. Zesty lime top
Organic cotton t-shirt (Mango, €7.99)
Lime is one of the colours of the season but if you don't want to invest in anything too expensive, this super soft cotton top from Mango is a bargain at €7.99!
8. Little black dress
A black dress is a staple that we have to have in our wardrobes. This LBD from Zara is super comfortable items and slightly flares out, which means it can hide a multitude.
Read more:
Sneak peek at the Helen Steele x Dunnes Stores collection
Inform | Inspire | Indulge