This is our second Inform | Inspire | Indulge post, where we share loads of interesting content, great events to check out and celebrate fantastic women. Read on for some lovely ideas for a relaxing break away, some fun things to do this summer and women to take inspiration from.
INFORM: Diary | Hot Topics | Things We Love
FOR YOUR DIARY
Taste of Dublin
This year's theme for Taste of Dublin at the Iveagh Gardens is 'Food Lover's Playground' and we're excited to sample the creative, diverse and novel dishes on offer! So far we've heard there will be an entire menu of foods in various shades of pink, a cocktail bar on the first floor of a wooden tram; plus lots of famous foodie faces sharing their exceptional recipes. Great British Bake Off's Candice Brown, Glovers Alley's Aoife Noonan and Sunil Ghai of Pickle are all set to appear. Taste of Dublin runs from 14-17 June and tickets are on sale now from www.tasteofdublin.ie.
Saoirse Ronan's latest film
Based on Ian McEwan's novel, this drama is set in England in 1962. It follows a young couple who find their idyllic romance colliding with issues of sexual freedom and societal pressure, leading to an awkward and fateful wedding night. Out 18 May
THINGS WE LOVE
Gorgeous Irish gifts
Have someone to buy for? Susan at SC Design and Art handmakes found art creations from pebbles and what she discovers on Morriscastle Beach near her Wexford home. We particularly like her designs for newborns. Prices start from €50.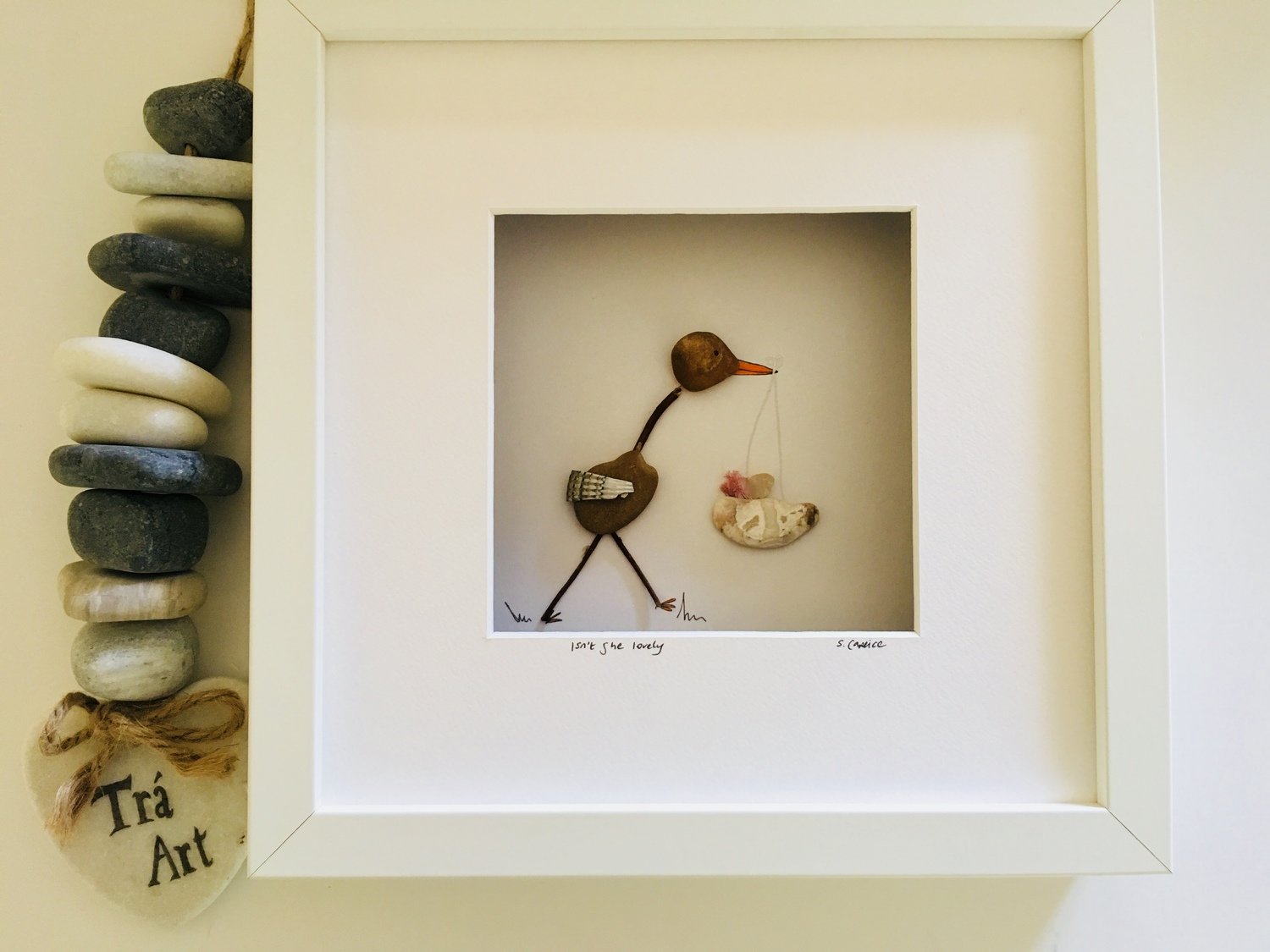 Léanas Gift in a Box is an online gift company based in Listowel, Co Kerry. From gifts for special occasions like weddings and new arrivals, to lots of 'just because' boxes of treats to make someone feel special, the boxes are thoughtfully curated and each includes a handful of treats. The Bridesmaid gift box contains a hand stitched 'Happy Tears' handkerchief, a pink grapefruit and champagne scented candle, a pocket mirror, Natural Beauty Pot of organic bath salts and more. The Housewarming gift box includes two bars of Brona handmade Kerry chocolate, a wooden 'Family Rules' sign and a 'Home Sweet Home' keyring. To see the full range, visit www.leanas.ie.
Click here for more INFORM content.
INSPIRE: Be Inspired | Interviews | Health & Wellbeing
BE INSPIRED
Women of the film industry protest at Cannes
Cate Blanchett and Agnes Varda led women from the film industry in a protest against gender inequity on the red carpet at Cannes Film Festival. Before the premiere of Eva Husson's Girls of the Sun, 82 women stood on the stairs and linked arms. 82 is the number of films by female directors that have premiered in competition at Cannes in its 71-year history, compared to 1,645 films by male directors that have had the honour. French movement 5050x2020, which aims to have 50/50 gender equality in the French film industry by 2020. Cannes jury president for this year, Blanchett read the English version of the group's statement, with Agnes Varda, one of only two women to have been awarded the Palme d'Or, read the French version. You can read the full statement here.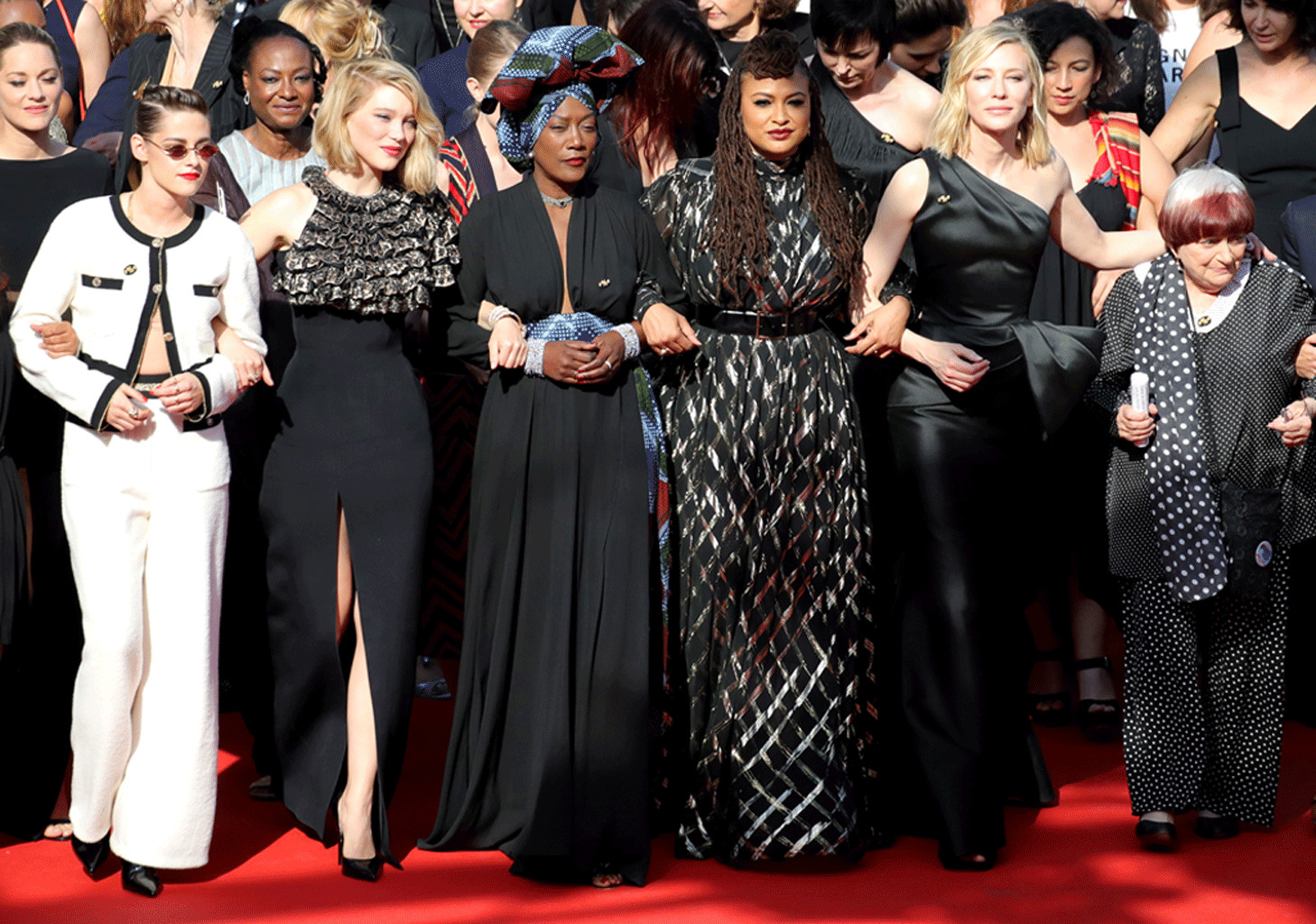 Pic credit: Andreas Rentz/Getty Images
Ice cream party? We're in!
Rachel Allen is leading the HB Fundays campaign for Down Syndrome Ireland, encourage the public to raise much needed funds for the charity by throwing a party with HB Hazelbrook Farm ice cream. The DSI and HB are hoping to raise €350,000 in the campaign, and the money raised will go towards educational support for children with Down syndrome. All you have to do is decide a date for your party, register by calling 1890 37 37 37 or filling in the form here, then wait for your party pack to arrive. Collect your ice cream from your local shop. Share the fun online and tag @DownSyndromeIRL and use the hashtag #DSIHBFundays. It could be a fun element for a child's communion or birthday party, or a treat for a good cause for your office. Any excuse for ice cream!
The woman at the helm of this year's Mini Marathon
There are just a few days left to sign up for this year's Vhi Women's Mini Marathon on 3 June! The closing date for applications is Friday 18 May, and you can sign up here. It is the largest all female event of its kind in the world and Ireland's biggest one day charity fundraising event. The event also recently appointed its first female Race Director, Olwyn Dunne. Olwynn's mum passed away at the age of 42, and as a mother of three teenage sons herself, when Olwyn reached that age she decided to tackle her own fitness. She signed up for a triathlon 10 years ago and hasn't stopped running since, and has won many national medals for 10k races and upwards. At 46 years of age she became the national 50k champion. "I'm very honoured to be the first female race director in the history of the event. The race directors over the years have done a phenomenal job, but it's about time there's a female in the position! Considering I hadn't even competed as a runner in any event just 10 years ago, I'm immensely proud of my achievements, and I'm excited to take on this huge responsibility," Olwyn says. "I'm passionate about physical and mental health. I feel that as women we don't give ourselves the time for health and fitness. It's so important to invest in yourself; we often put other people first, whether it's our family or work. The nice thing about running and training for events is that it helps to create space for yourself. I love being able to help women, whatever their ability."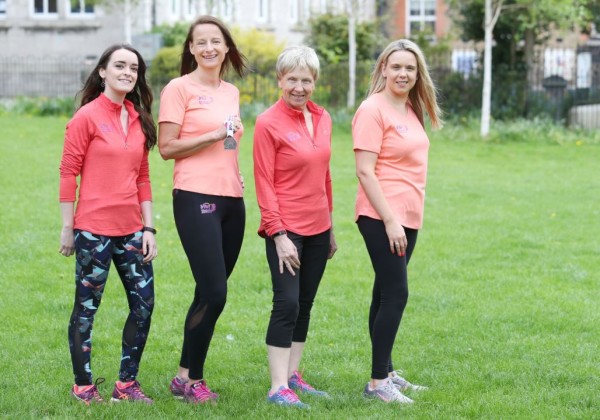 Olwyn, second left pictured with runners Lisa Richardson, Mary Smyth and Claire Bowes.
HEALTH & WELLBEING
Relaxing spa treatments for cancer patients
Cancer treatment takes its toll on the body and the mind, and so it is important to take time to relax. The five star ESPA at Powerscourt Hotel has teamed up with Wellness for Cancer to create a range of nurturing treatments for people living with cancer that will promote relaxation and ease anxiety. The spa therapists have undergone extensive training to facilitate the ESPA Nurture and Support programme, which emphasises holistic wellbeing. Guests are guided through visualisation exercises to steady their breathing and create a sense of calm, incorporating crystals on relevant chakra points to help balance the mind. The Be Nurtured Facial and Massage uses products specially selected for the treatments, tailored to nourish and restore radiance to the skin. The Be Nurtured Back, Face and Scalp 90 minute massage works to soothe the main areas of tension. Contact Powerscourt Hotel for details.
Talk to a doctor wherever you are in the world
Irish online GP service videoDoc allows you to contact a doctor wherever you have internet access, ideal for anyone heading on holidays this summer or for when kids feel unwell while away. Download the videoDoc app for a secure video consultation with a GP in Ireland, no appointment necessary. According to the EU directive 2012/52/EU, medical prescriptions obtained through videoDoc have to be filled at any local pharmacy in the EU. A single consultation costs €20, though a subscription service is now available, costing €35 for an individual or €110 for a family of four.
Click here for more INSPIRE content.
INDULGE: Interiors & Travel | Fashion & Beauty | Food
INTERIORS & TRAVEL
Cahernane House Hotel's new lease of life
The Cahernane House Hotel in Killarney has unveiled the final elements of the extensive €6.5million renovation of the manor house. The Cellar Bar has been totally revamped, creating a plush and homely room with a fashionable and eclectic edge. The old wine cellar area has been transformed into a new bar, panelled in solid Victorian oak with screens to create nice private dining areas, with bespoke furniture designed for the space with deep leather bench seats with hand carving on the arms. Designer Julie Goggin has been working on the unique revamp of the hotel to create an atmosphere guests will adore. The 26 rooms of the Garden Wing have all been renovated, with each room offering something different with high spec grass cloth wallpaper, and art and antiques sourced to fit the different spaces. For more visit www.cahernane.com.
FASHION
A special release from Juvi
To celebrate 30 years of ISPCC Childline, Juvi Designs have created a limited edition pearl pendant, with all proceeds going towards the 24-hour listening service for children. The Empowerment Pendant costs €95 and is available while stocks last in Arnotts Dublin and online from juvidesigns.com. The pearl represents purity and innocence, and the oak tree engraving symbolises growth and empowers children to believe in themselves and their ability to cope with life's challenges.
BEAUTY
Perfect pedi
If you're looking for an indulgent treat, try the Burgundy Beauty Prosecco Pedicure. Relax with a glass of Prosecco and strawberries while your therapist provides a full pedicure, including a foot and leg exfoliation and massage and gel colour for just €60. Find the Burgundy Beauty salon in Blackrock, Dublin.
FOOD
We all scream for ice cream
The Morrison Hotel's Sundae concoction allows you to create your own with hundreds of possible combinations. Pile a glass tankard high with your choice of scoops, sauces and toppings. Three scoops of ice cream, a choice of sauce and five toppings such as popping candy, jaffa cakes, raffaello, roasted macadamia and more costs €7, or go for the Screw It option and have all 13 topping options for €10. 'Tis the ice cream season after all.
Gourmet Street Kitchen
The Food Depot is a delicious food truck located In Courtmacsherry in West Cork, run by husband and wife team Diana Dodog and her husband Mike. Known for her Masterchef win a few years back, customers can expect inspired recipes such as ginger, sesame, lemon and pork noodle broth; triple lentil dal with basmati rice; beef and Hungarian chorizo stew as well as a delicious West Cork chowder, a grilled halloumi Buddha bowl as well as gorgeous home bakes. Find them on Facebook or check out Diana's cookbook, Favourite Recipes from the Food Truck.
Click here for more INDULGE content.
Read the first Inform | Inspire Indulge post here.
Inform | Inspire | Indulge