There's nothing nicer than sitting down with your loved ones to enjoy a good natter over a tea, sweet treats and a glass of bubbles in decadent surroundings. Here's a list of some of our favourite afternoon teas around the country.
1. SHEEN FALLS LODGE, KERRY
The afternoon tea at Sheen Falls takes place in the gorgeous Sun Lounge. Choose from a selection of leaf teas or a fresh coffee, and enjoy three tiers of treats. The delicious selection of open sandwiches include Dingle crab with lemon, lime and coriander, glazed honey roast ham with chutney, Coolea cheese with tomato and chutney and chicken breast with mayonnaise. The next tier has warm scones served with clotted cream and strawberry preserve followed by an array of teatime pastries. €65pp for a Prosecco Afternoon Tea.
2. CASTLEMARTYR RESORT, CORK
The Lady Fitzgerald's Afternoon Tea in the vintage-style surroundings of Castlemartyr is an indulgent treat that is perfect for a special occasion. Enjoy a small but delicately balanced sweet start upon sitting, before the tray arrives. Sandwiches include chicken, rocket and wholegrain mustard, a baked brioche roll with egg mayonnaise and sun-dried tomato, cucumber and cream cheese on white bread, and the absolutely delicious poached salmon with herb infused mayonnaise, soft-boiled quail's egg and trout caviar served on squid ink bread. The baker's tier includes homemade scones and cakes with clotted cream and strawberry jam, and the patisserie selection includes a symphony of desserts created by the team of pastry chefs. €39pp for Prosecco Afternoon Tea
3. FARNHAM ESTATE, CAVAN
Afternoon Tea is a soothing ritual at the Farnham Estate, served in the historic period rooms that are part of the original main house. The Music Room and Middle Drawing Room are handsomely decorated rooms in which to while away an afternoon, and the menu will not disappoint. Dainty savoury sandwiches include goats cheese mousse, vine cherries and pistachio crumb on tomato bread, porterhouse cheese, McCarren's ham and Ballymaloe relish on sourdough and rocket, roast Cavan Hereford beef and horseradish crème fraiche on olive bread. Enjoy plain and fruit scones with clotted cream and preserve followed by the cake of the day, crème patisserie fruit tart and opera torte. €34pp Prosecco Afternoon Tea
4. THE g HOTEL, GALWAY
Served in the Philip Treac-designed Signature Lounges of The g Hotel, the Art Deco Afternoon Tea is lovely for an occasion. The menu changes regularly but a sample of the style of savoury bites on offer include St Tola goats cheese, red pepper and walnut pesto on tramezzini bread, Galway Bay prawn cocktail with pickled cucumber and Marie Rose on brown bread, honey baked ham and quail egg on toasted flatbread and chicken liver parfait with shallot and port jam on toasted brioche. The colourful sweet treats are comprised of desserts like black forest verrine, black cherry jelly, kirsch panna cotta lemon macaron, mango and passionfruit meringue tartlet, a 1920s gateau opera and a strawberry and vanilla roulade. €37 for one and €59 for two for Prosecco Afternoon Tea
5. BROWN THOMAS, DUBLIN
The Spring Garden Afternoon Tea Experience at The Restaurant by Johnnie Cooke at Brown Thomas Dublin is available until the beginning of April and is a sumptuous Champagne experience. Perrier Jouët Champagne has teamed up with Johnnie Cook to co-create a menu focused on florals, which includes delicacies like truffled chicken gougères, love-apple Champagne jelly and a chocolate marzipan hat dessert. Choose between Grand Brut, Blason Rosé or the iconic Vintage Belle Époque, served on an elegant tree sculpture. From €45pp for Champagne Afternoon Tea
6. CASTLE LESLIE ESTATE, MONAGHAN
In the beautiful Castle Leslie Estate, Afternoon Tea is quite the experience. Enjoy sandwiches such as cucumber and chive crème fraiche on brioche, ham and wholegrain mustard mayo on a bagel and smoked salmon and horseradish cream cheese in a wholemeal pitta. The middle tier includes scones, a tea cake, a custard tartlet and a crumpet, while the top tier includes an Irish liquor macaron, a mini Victoria sponge and more. €43pp for Champagne Afternoon Tea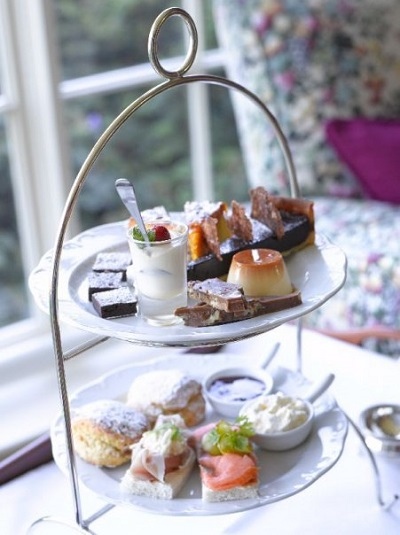 7. LOUGH ERNE, FERMANAGH
Lough Erne's Afternoon Tea is full of delicious traditional fare for an unforgettable day. Finger sandwiches include cucumber and cream cheese, smoked salmon and chicken coronation, and sweet fancies featured include a homemade custard cream, chocolate profiteroles and more. For something a little different, chocoholics will love the special Chocolate Afternoon Tea has a feast of treats for the tastebuds, and the 'G and Tea' is served with cocktails such as the Negroni, Gin Martini or a Bombay Bramble. From €32pp for Sparkling Afternoon Tea
8. KILASHEE HOUSE HOTEL, KILDARE
The serene Turners Restaurant at Killashee House Hotel is the venue for this delicious Afternoon Tea, which includes delicious traditional sandwiches and a mouthwatering array of cakes and treats. Special Killashee snowballs, caramelised banana bread, chocolate orange marble cake and shortbread jammy dodgers are just some of the tantalising treats on the menu. €30pp for Bubbly Afternoon Tea
9. DRUID'S GLEN, WICKLOW
This special afternoon tea is served in the conservatory at Druid's Glen, which is a lovely relaxing environment. With a menu full of gorgeous ingredients like Wexford smoked salmon and wild dillisk crème fraiche on Guinness bread and hen's egg yolk, asparagus spears and chive mayonnaise on sourdough crostini, your tastebuds will definitely be satisfied. From €42pp for Champagne Afternoon Tea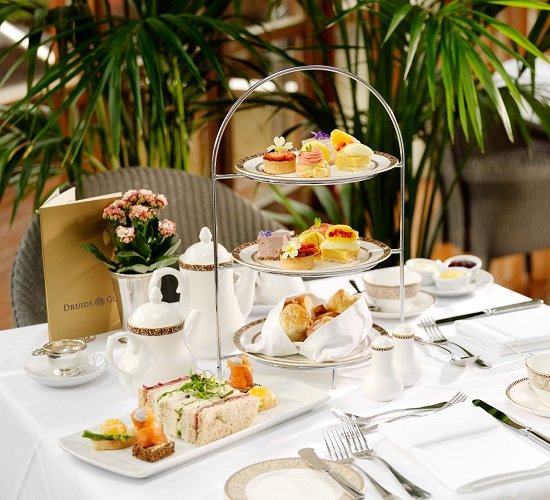 10. GALGORM RESORT, ANTRIM
The Afternoon Tea experience at Galgorm Resort will make you feel like royalty. With delicious sandwiches of comforting favourites like cajun chicken on brioche and brie and roast pepper on white bread and miniature desserts that are fantastically decadent, this is an unforgettable meal. Choose from Alfred Gratien or Laurent Perrier Champagne. From £34.95pp for Alfred Gratien Afternoon Tea.
If you liked this, you might like:
9 Irish seafood restaurants you must try
Why everyone should go see Hidden Figures
Inform | Inspire | Indulge