Breakouts, dehydrated skin, chapped lips, sun damaged hair … these are problems we face on a daily basis and we always look for something that will tackle the problem efficiently and most of all, quickly. We've found some quick-fix products that will sort out your skin, lips and hair problems ASAP.
Dehydrated skin
Lancóme Hydra Zen Jelly Mask (€34.50)
Our skin is a very delicate organ and can easily become worn out and dehydrated. This Lancóme Hydra Zen jelly mask intensely moistures and combats the effects of stress and fatigue in the skin. It contains moringa seed, peony root extracts, hyaluronic acid and rose water which leaves your skin feeling fresh and glowy.
Acne breakouts
Origins Out of Trouble 10 Minute Mask to Rescue Problem Skin (€30)
From hormonal changes to the weather, sometimes our skin just breaks out and spots can be the hardest skin condition to combat. This Out of Trouble mask has ingredients to target acne-prone skin. It contains camphor which helps to calm the skin and salicylic acid which helps removes dead skin cells and leaves the skin feeling and looking fresher and healthier.
Clogged pores
Glamglow Supermud Clearing Treatment skincare mask (€45)
This supermud mask removes impurities and is a great treatment for pores, blemishes and oiliness. The activated x charcoal lifts away dirt and leaves the skin with a radiant smooth complexion.
Dull skin
Trish McEvoy Hydrate and Glow Dry Sheet Mask (€86 - 4pk)
Renowned make-up artist Trish McEvoy is definitely someone we trust when it comes to skincare. This dry sheet mask is waterless, re-usable and completely mess free. The sheet mask is enriched with concentrated waves of hyaluronic acid, peptides and antioxidants to deliver instant moisture and is cut to fit the contours of the face. It can also be worn over makeup for a boost of radiance throughout the day.
Fine lines and wrinkles
IMAGE Biomolecular Anti-Ageing Sheet Mask (€7.65 on sale)
If you love want a mask that is going to reduce the appearance of fine lines and wrinkles and brightens the skin, then this IMAGE anti-aging sheet mask is worth a shot. It contains a fusion of ingredients including ginseng extract which is a powerful antioxidant and helps with anti-aging. The hydro-gel technology leaves your skin feeling firmer with a youthful radiance.
Oil Control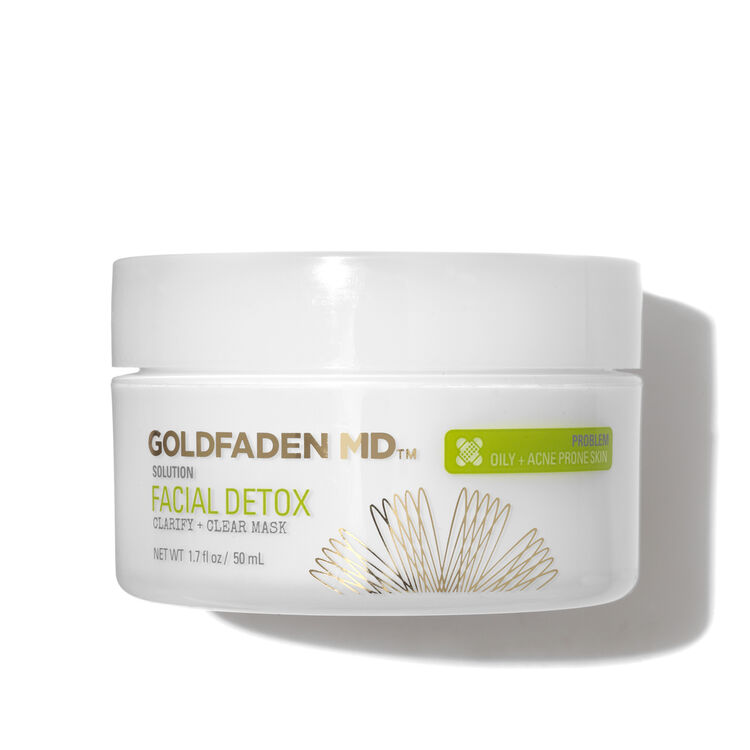 Goldfaden MD Facial Detox Pore Clarifying Mask (€68)
The facial detox mask was created to purify congested skin. The mask regulates oil production so there's less chance of unwelcome breakouts or a shiny t-zone. Additionally, you can use it as an individual spot treatment. Goldfaden MD is available at Space NK.
Face Tan
Charlotte Tilbury Overnight Bronze and Glow Mask (€48)
Charlotte Tilbury is the queen of bronzed and glowing skin and her beauty range definitely emulates that too. This bronze and glow overnight mask is perfect if you want that natural looking sun-kissed glow. The nourishing blackcurrant seed oil conditions the skin and the oat kernel extract reduces redness and soothes skin leaving it protected and hydrated.
Chapped lips
Kiehl's Buttermilk Overnight Lip Treatment (€25)
If you suffer with chapped lips, then this rich overnight lip mask helps repair chapped lips and provide instant hydration. The overnight treatment is made with coconut oil and mild mango butter which both has nourishing oils that help restore the soft and smooth texture of the lips.
Damaged Hair
Kérastase Soleil masque UV Défense Active (€33.66 on sale)
If you have been out in the sun too much this summer and feel like your hair is in need of some TLC then try this Kérastase UV défense mask. The mask repairs coloured and weakened that has been exposed to the sun and leaves hair nourished and healthy.
This article appeared in the September issue of Irish Country Magazine.
Image source: Raw Pixels
Read more:
7 skincare resolutions to make in 2019
Inform | Inspire | Indulge